Arizona Articles of Incorporation For Profit or Professional Corporation | Form C010
The Articles of Incorporation For Profit or Professional Corporation | Form C010 is on of the forms an entity must submit to the Arizona Corporations Committee in order to form either of these types of corporations. In order to gain approval from the State of Arizona for conducting business within this state, the entity must first form a legal Arizona corporation by submitting the Articles of Incorporation, Cover Sheet, Certificate of Disclosure (and any accompanying paperwork), and a filing fee payment of $60.00 (expediting will be available for an additional $35.00 fee).
It is important to bear in mind that while this is a mandatory filing with the Arizona Corporation Commission, there may be other requirements by other entities (such as the I.R.S.) that will demand attention. This may depend on such factors as the nature of one's business or the area one will operate in. It is, therefore, imperative to make sure one is aware of any and all such requirements by being well informed and/or consulting a professional (such as an accountant or attorney). This will help ensure compliance to all state and federal mandates.
How To File
Download Statutory Agent Acceptance Form
Download Certificate of Disclosure
Step 1 – In item 1, place a check mark in one of the choices to indicate the type of corporation this entity shall be. You may choose a "For-Profit (Business) Corporation" or a "Professional Corporation."
Step 2 – In item 2, report the name of the corporation being formed. The name must be unique and must conform to the requirements in Arizona Revised Statutes Title 10 Chapter 4.
Step 3 – Item 3 is reserved for professional corporations being formed. If this entity will be a professional corporation then describe the type of services provided. Do not fill this item in, if you are forming a for-profit corporation.
Step 4 – Item 4 requires you describe the character of your business regardless of the type of corporation being formed. This should be an accurate description of why this corporation is being formed, what type of business it will conduct, and how it will go about conducting this business. This may change as time goes on but must be defined initially here.
Step 5 – Item 5 requires the shares this corporation is authorized to issue be defined. In the table, define the share class, series and total number of that share class available. The par value is optional but recommended to report. If more room is required, then check the box in this item's paragraph and continue to define these shares in the "Shares Authorized Attachment" form which may be downloaded here: Form C087
Step 6 – Item 6 requires two pieces of information. If the business address of this corporation is the same as that of the statutory agent then mark the box labeled "Yes" then proceed to item 7. If the corporate street address differs from that of the statutory agent, mark the box labeled "No" then proceed to 6.2. In item 6.2, report the street address where this corporation shall conduct business.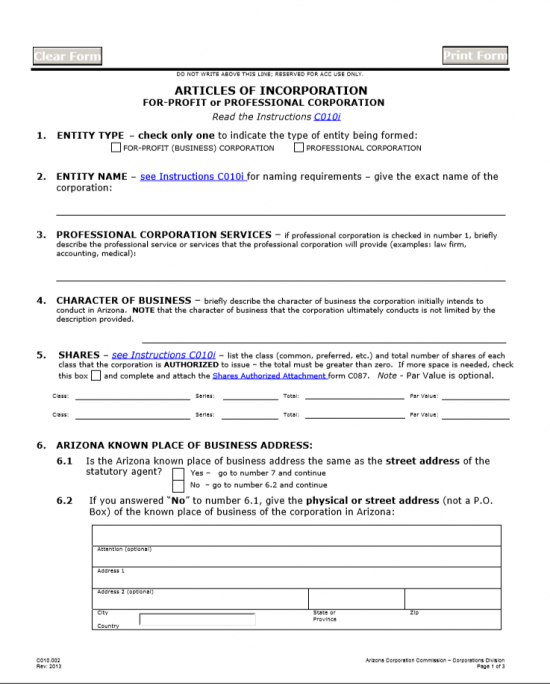 Step 7 – In Item 7, you must report the name and business address of this corporation's Directors. There will be enough room to provide the identity and information for six Directors. If there are more, you must report them as well. In such a case, mark the box in the paragraph and continue this list in the Director Attachment. The Director Attachment may be downloaded here: Form C082.
Step 8 – Item 8 requires the identity of your statutory agent. You must enter this entity's name and street address. If the statutory agent has a separate mailing address that differs from the street address, you must report this as well. Make sure this is the entity or individual named in the Statutory Agent Acceptance (that must be attached to this document). The Statutory Acceptance Form may be downloaded here: Form M002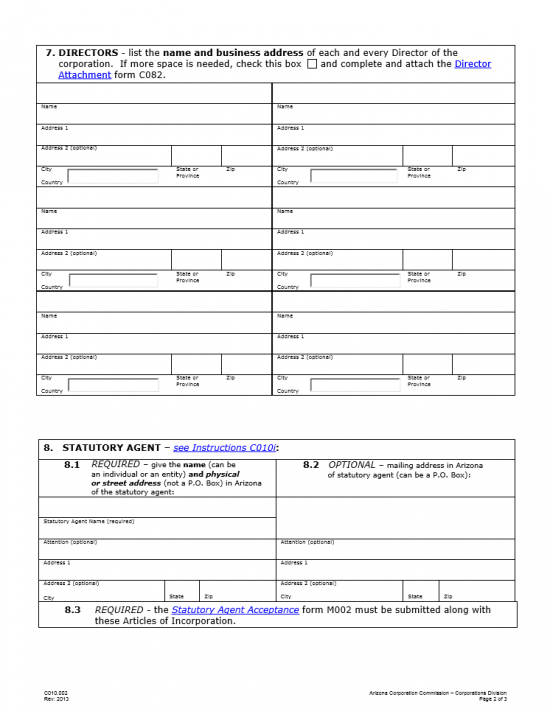 Step 9 –  As per item 9, attach your corporation's completed Certificate of Disclosure. The Certificate of Disclosure Form may be downloaded here: Form C003
Step 10 – In Item 10, the name, address, and signature of each incorporator must be provided here. If you are signing for an entity make sure to check the appropriate box and report the name of the corporation you represent.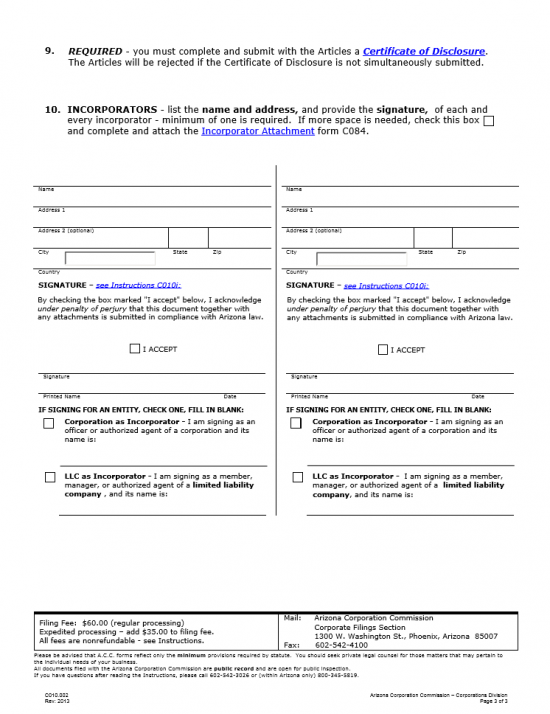 Step 11 – You may now submit this application by submitting the completed Cover Sheet, Arizona Articles of Incorporation For Profit or Professional Corporation | Form C010, Statutory Agent Acceptance, Certificate of Disclosure and all required documents/attachments. This may be done by mail or in person at:
Arizona Corporation Commission
Corporations Division
1300 W. Washington Street
Phoenix, Arizona 85007
This must accompany a payment for the filing fee ($60.00). If you wish to expedite this application process, you may purchase an expediting service by including an additional $35.00.  The payments may be made by check provided payment is made payable to "Arizona Corporation Commission" with a preprinted/imprinted account number along with the name and address of the account holder present on the check. You may pay by check if submitting in person or by mail. If you wish to pay by credit card (AMEX, MasterCard, or VISA) or by cash, you must submit this application in person.